Cloud Exchange

To have a Cloud Computing environment, security is only one of the matters you have to be attentive. Have you ever thought that connectivity is as important as, or even more important than security? A secure cloud is worth of nothing if access is slow and irregular, becoming vulnerable to attacks?
Therefore, Brasil Link brings to the Brazilian market the Cloud Exchange, the first interconnection point between customers and cloud service providers. Once you have settled your environment, or an access port, in the same datacenter of your cloud provider, the performance of your cloud applications is drastically higher. Your environment is only one cross connect far form the cloud, and the private connection with 99.999% SLA availability is much faster, secure and cost effective. By eliminating bottlenecks associated with traditional cloud access across public Internet, and other matters related to the configuration of a secure VPN, Cloud Exchange offers a secure path for companies to access their cloud resources in much higher throughput. Cloud Exchange combines the automated interconnection of cloud, network and managed services providers with advanced service orchestration, providing enterprises with simple, scalable, direct access to multiple cloud services they need to build highly flexible hybrid cloud solutions.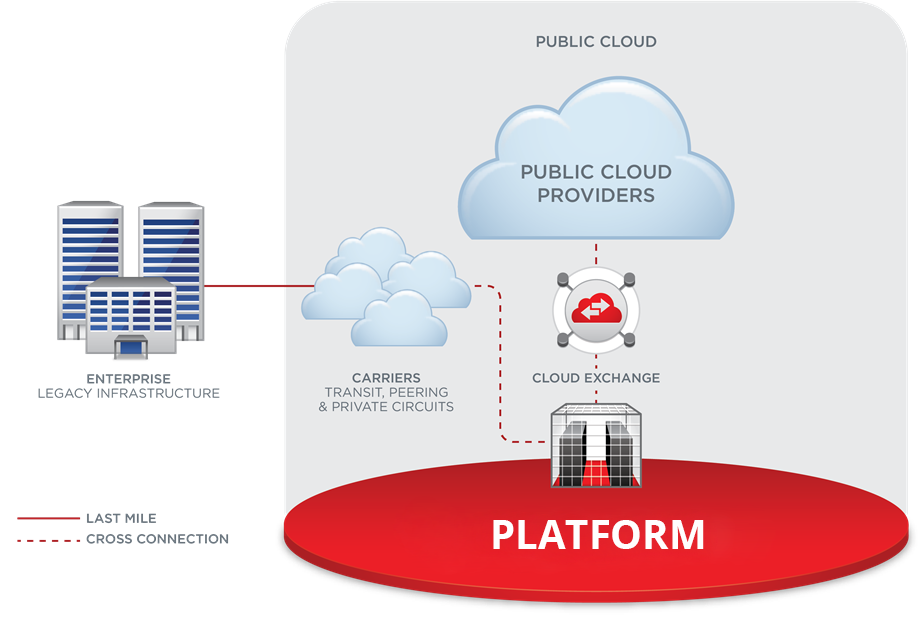 KEY FEATURES OF CLOUD EXCHANGE:
• On-demand cloud connection automation – Cloud Exchange portal and APIs simplify the process of managing connections to multiple cloud services.
• One port, many virtual circuits – home to more than 500 cloud services providers, and the number is growing. As more join the Cloud Exchange, service providers and users have more opportunities to establish interconnections.
• Global reach – the data centers that host the Cloud Exchange are found in 21 top-tier markets globally
• Secure, high-performance direct connections – direct connections within the data center are more secure and reliable and have lower latency than public Internet connections.
CLOUD EXCHANGE FOR COMPANIES LOOKING TO EVOLVE THEIR CLOUD STRATEGY:
Cloud Exchange offers to Brasil Link's customers not only the opportunity to choose between several cloud providers, but also the opportunity to have private connection in a high-performance, secure and cost-effective virtual environment.
ADVANTAGES:
• Increased speed to multi-cloud connections through automated, near-real time provisioning to multiple cloud service providers
• Improved performance by connection directly to cloud service providers
• Increased security by deploying application within your data center's local area network
• Reduced cost with virtual connections
CLOUD EXCHANGE FOR NETWORK AND CLOUD PROVIDERS
Network and cloud providers can also benefit of great advantages with Cloud Exchange as they join an environment with over 1,500 potential customers and extend their market reach.
ADVANTAGES:
• Extended market reach
• Simplify operations through streamlined business processes and automated provisioning
• Reduce complexity with traffic aggregation and pre-integrated API from Cloud Exchange
• Improve time to market through real-time connections